Sunday, 15 of november 2020


@sighswoon




We have enjoyed Gabis online presence for the last 3 years now,
she is a massive expander in the digital Art scene and a real multi-hyphenat,
we specially enjoy her writing and the ability she has to express her feelings and put them in to words or Art .

"My name is Gabi Abrão and I was born and raised in Los Angeles to a spiritualist Brazilian father and Austrian mother. My thesis in life and art is to develop a language with the invisible, and I do so through multiple mediums including digital collage, memes, poetry, prose, paintings, clothing, and observational theory-based podcasting.


Morning routine:
It alternates between two main routines depending on my varying energy levels through the month:
1. I wake up and feed off the natural energy of the morning for hours, I do not eat or ingest caffeine until I am sure I need it. When I get hungry, I make an enormous breakfast meal by early afternoon with green tea. Or,
2. When that natural energy isn't strong - I wake up and walk 1 mile to my favorite coffee shop and get either a green tea or vanilla oat latte with a croissant. My day then begins jolted with caffeine and sugar and activity.

How you stay productive:
I stay productive by not letting myself feel guilt and resentment when my energy becomes restful and unmoving. I let myself rest and be "nothing" when my body asks for it. I have found I am rewarded with inspiration or activity after a couple days of allowing this, as opposed to what I used to do. Before this realization, when I felt myself slowing, I would carry a sorry feeling and hastily make to-do lists and ultimatums for myself - a fearful force which can last for weeks or months with no results, or worse, I just create busywork. I have found my energy is very inconsistent, up and down, and now I work with it. I trust my bursts of energy and activity as much as my passing fogs.

Self care tips:
There is no greater self-care than putting efforts into ridding stress, fear, guilt, and shame from your psyche and body. Doing so is free, but a constant practice. Have conversations with your subconscious, with your body, with your reactions, with your experiences. Like a scientist studying yourself. Take note of the moments and places and people that lifted you and those that truly didn't. Look at your patterns and reactions. In a world that thrives off of our reactivity and unrest, choosing to take the way you process stimulation seriously is a deeply worthy, lifelong cause. And once again, costs nothing.

Artists that inspire you:
Adriana Varejão, Ana Mendieta, Rene Magritte, Alejandro Jodorowsky, EJ Hill, Carlota Guerrero, Alejandra Smits, Marina Abramovic, LSD Worldpeace/Joe Roberts, John Divola

@JohnDivola From Zuma Series, Zuma ( 1977)
Joe Roberts LSD Worldpeace (2015)
Your workplace:
two photos from the same room in my home, my studio, which shows my tangible artwork space (drawings on walls in studio) and my digital artwork space (laptop where it often is).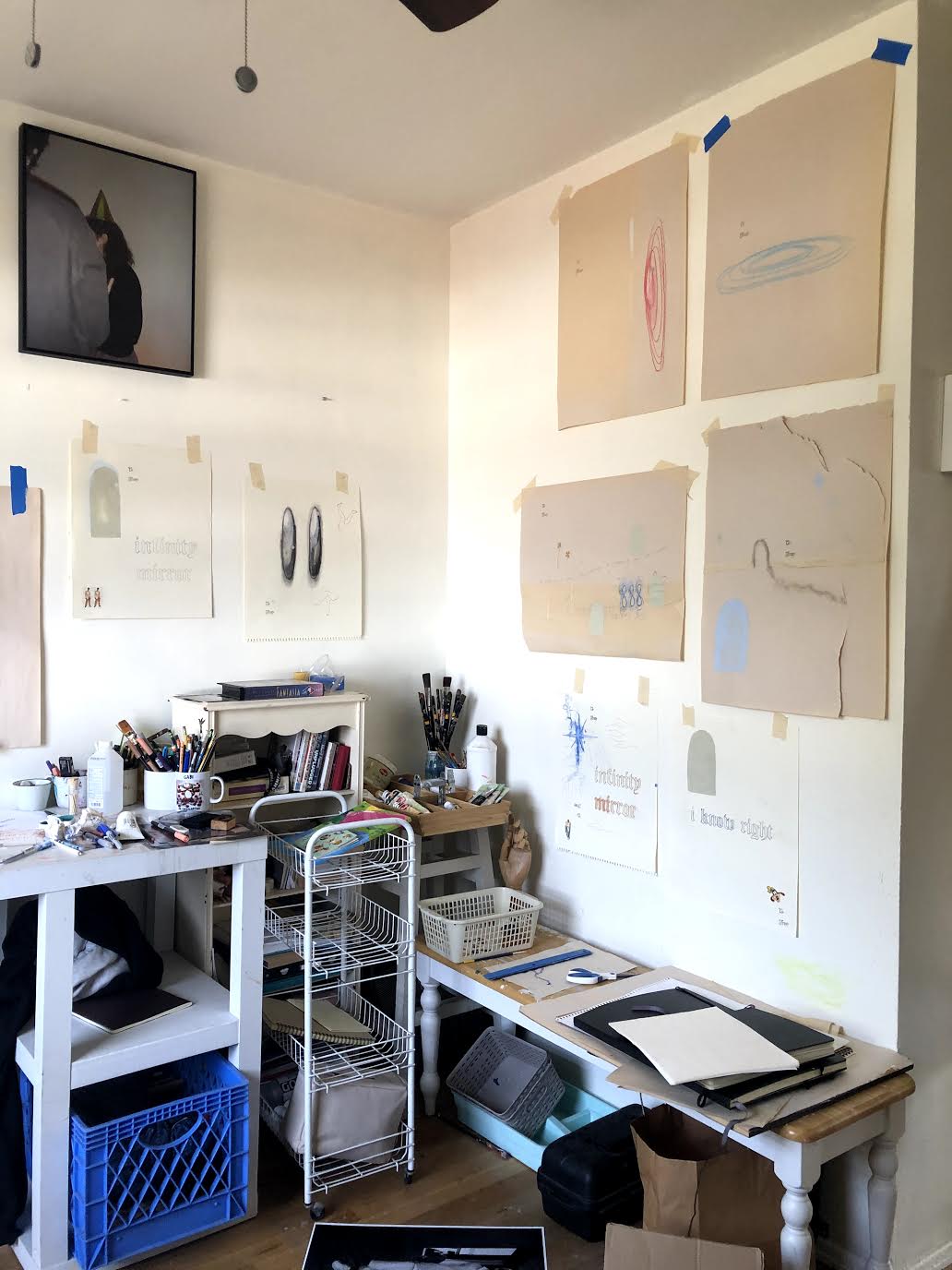 Your most recent work:
I went to a mountain full of stark white statues in Joshua Tree, CA last month and filmed some of their hands to make this video. I am quite obsessed with hands. I collect hand sculptures at home, and have just begun to collect hands out in the world through filming them. This was the first study of this form of digital collecting, a short video with some hand-inspired affirmations recited in the audio:





I also made this carousel of digital collages recently that express current potent emotions:
Your creative process :
I get obsessed with a concept, metaphor, or symbol and let my exploration of it play out through multiple mediums. I feel like life is one big opportunity for research, and you should always have a thesis. By always having a thesis, or a fixation, I am always in conversation with a part of myself or my environment. Like a radio tower picking up frequencies. I believe my creative process is always being in this state. I also like to "get to the bottom" of things. So once I have a general feeling, I seek to define it. Sometimes language can define something, but often it can't, and this is where art comes in. I believe that the purpose of words, art, and expressions (physical, tangible forces) is to ground ideas and emotions (invisible, ethereal) to earth to achieve a sense of balance and release. In simple words, my creative process is a quest to transfer my internal obsessions into something tangible, so they can be set free.

Advice to the younger generation :
Everything is constantly shapeshifting and changing. This is the nature of life and one of the few undeniable truths. Your body, your emotions, your narratives, your dreams, information about people you love and society and the meaning of life - they are fluctuating and changing, always. Do all you can to befriend change and trust its profound truth, and laugh when it baffles you. Also, your body is a tool that works for you, it is not a burden or apology. Treat it as so. Do not fear it. Consult your body, work to understand your body, it is your most important long-term relationship.

What video on the internet do you think everyone should see?

Deer playing in the ocean -




`
Food:
All Brazilian food. Rice pudding with peaches in it.

Movie:
Arrival, 2016

Books:
Near to the wild heart and agua viva by clarice lispector.



Podcast:
Illusion Pod, which is my best friend and I's latest venture


Clothing:
Hara The Label's tube tops are my number one staple.
The Great Eros for luxury loungewear as outerwear. They make the most perfect, quality designs for romantic outtings and intimate dinners.
And, this cropped hoodie that sunshineshop helped me create with a phrase I live by:


Jewellery :
Laura Lombardi for the greatest, timeless hoop earrings Chloe Keene (@chloe.keene)
makes these wonderful surreal pieces. Completely handmade. Hannah Keefe -










thank you for reading <3 love u