︎
︎
Joey is an illustrator, curator, and animator who depicts everyday life in Marvelous and captivating ways.
Creating both large and small-scale works, Joey Yu connects color, depth, and materiality through her observational illustrations in ways that challenge the ordinary.
She has constructed a world entirely of her own, an outburst of colors and feelings that transport you into a timeless state of bliss.

WHERE DO YOU COME FROM?
London.
WHERE IS HOME NOW? WHERE HAS HOME BEEN?
I've always lived in the UK. I've been travelling lots for work though, and I like the idea of home being somewhere else for a bit.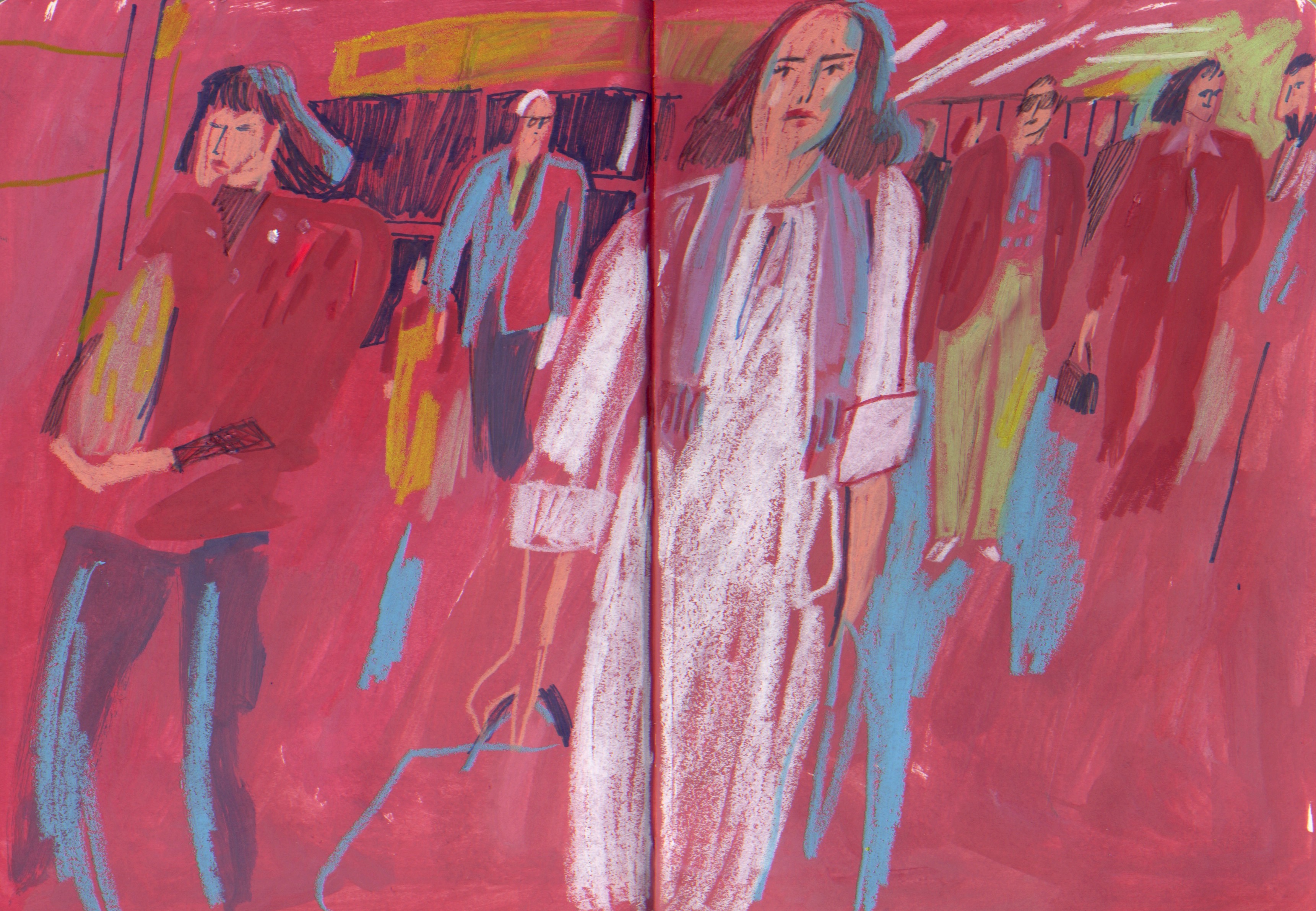 WHAT ARE YOU CURRENTLY WORKING ON?
Amongst commissions and other projects, one continuous thing I am doing throughout this year is painting various couples that inspire me in London. When I've got enough I'm going to turn the collection into a little zine/exhibition. It's such an uplifting project for me to be documenting- just pure, enduring, joyful love.
WHAT DOES ART DO FOR YOU?
it makes me curious!!!
WHAT DOES YOUR DAILY ROUTINE LOOK LIKE? DO YOU HAVE ANY HABITS?
I stay up really late, so I'm also a late riser if I don't have to get up early the next day. In terms of habits- The radio will be on, it's a really old one my mum used to own from the 80s, and I'll talk to myself when I do my makeup.
WHAT HAS LOVE MADE YOU CAPABLE OF DOING?
I love that I can do what I love for work! The power of love has made me capable of pushing on, not giving up.
CITE THREE FEMALE ARTISTS YOU ADMIRE.
Regina Spektor

Maira Kalman
Grace Wales Bonner
A BOOK?
Elsewhere by Gabrielle Zevin
. This is a book I read when I was a litle girl, but I was going through my old books recently and read it again. I still think it's absolutely beautiful. It explores an alternate experience after death,
i
n which you live backwards, growing younger until you're a baby- then you travel back to earth to begin again.
CITE SOME SONGS THAT WOULD BE ON YOUR FAVORITE PLAYLIST?
I'm in a slightly nostalgic, indulgent sad song mood; it's January and it's grey and raining outside. I was listening to The Shins when I was on a trip to Toulouse recently. My favourite by them is Australia. Also just off the top of my head, James Blake's cover of Case of You... Frank Ocean's cover of At Your Best... Donnie and Joe Emerson- Baby, Nina Simone- Mr Bojangles, Nico- These Days, The Reels- This Guy's In Love...
HOW DO YOU THINK SOCIAL MEDIA IS CHANGING THE ART WORLD? DO YOU THINK ITS BECOME A USEFUL TOOL FOR ARTISTS?
The art world has completely been flipped around by social media. When I was growing up, I knew no POC creatives. In school I learnt about only old white male artists- there was no representation of other artists at all. Of course there are always going to be negatives to social media, but to think that people are growing up in a time where they can see such a variety of different artists from different backgrounds trying things, making things- that's incredible.
WHAT KIND OF THINGS WOULD EXIST IN YOUR IDEAL UTOPIA ?
I like overcoming challenges and learning things all the time. So my utopia would have obstacles, definitely. Maybe also 24 hour food courts, libraries... just places you could rock up to at 2am and just chill with your friends. I want to spend my friday with a friend reading the whole night!
DEFINE WHAT HAPPINESS IS TO YOU.
Steadiness. It's just a quiet little burning contentment, the ability to feel very present and in the moment.
READ MORE
Babyface interview
Booooooom
ItsNiceThat
Ballpitmag